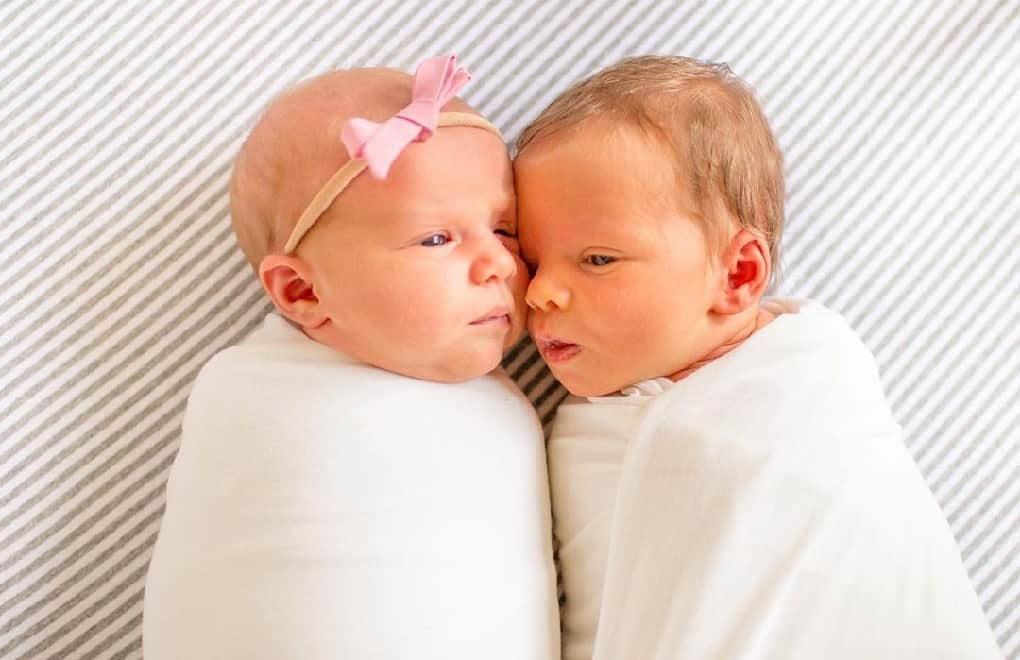 Having two angels at the same time is a double blessing and a feeling that cannot be taken lightly. Special days deserve to be remembered always and forever as part of their lives, you have to make the day unforgettable for them. Send them a birthday message on their birthday and you will definitely be putting a smile on two awesome bright faces.
Here are some beautiful twins birthday messages you can wish your special twins turning a new age.
Best Twins Birthday Wishes for Your Cuties:
1. One plus one equals two of the most amazing twins this world has ever known. May you have the most amazing birthday!
2. Parents can save a lot of money on the birthday of their twin kids. One party and one cake.
3. It's a great blessing for a woman to have two babies who were born in the same year, on the same day, and at the same hour. May God bless you, twins. Happy Birthday.
4. The pleasure of having twins is unparalleled, you've got to see two people who look exactly alike, who wear the same cloth but are totally different. Happy Birthday.
5. It's a beautiful day to be celebrating such angels, you are loved, appreciated and you always make our day. Have a blast on your birthday!
6. Twins are a double blessing that is rare amongst humans, happy birthday to spectacular beings who have a beautiful and loving heart.
7. The incredible thing about being a twin is that you are born with your best friend, so never feel alone, you will always have each other. Happy birthday.
8. You are double the joy, double the fun, and double the blessing. Happy Birthday my lovely twins, may you grow to be healthy, strong, wealthy, and definitely hearty.
9. Double girls and double trouble, but your trouble will forever be my source of catching fun. I love you both with your trouble. Happy Birthday. Enjoy this great day.
10. Twin boys are just too wonderful, the way they stand up to protect and care for their mother every time is just too romantic. Happy Birthday my twins. Love you
11. I wouldn't ask for anything else, I wouldn't ask to be anywhere else, being here to witness this day is a great joy. Happy Birthday, I love you!
12. All the beautiful things of life shall not miss you both as you progress in life. Happy Birthday to wonderful twins.
13. I cherish twins as treasures and rare gems, you are a fantastic creation of God, Happy birthday twins.
14. Happy Birthday my darling twins, you are turning a year older and I am happy to share this day with you. Have fun my darlings, you are blessed!
15. Words alone can\'t describe how amazing you both are, you are a pair of blessing and I love you to the moon and back, enjoy your wonderful day twin boys. Happy birthday, I love you.
16. Twins are not just inseparable they are together, but they are inseparable when they truly love one another. Happy Birthday my inseparable twins. I love you so much, enjoy your day.
17. Another year with you is the best gift anyone can ever get, you are priceless my dear twins, make mommy happy by having unforgettable birthday celebration dears.
18. We got a wonderful miracle in two identical forms. Happy Birthday, Girls!
19. The world started looking double, double the laugh, and double the trouble when we were blessed with sweet twin sisters. May you both have a beautiful life.
20. Two balloons are flying for two angels. Two candles are being blown out for the birth of the cute twin. Happy birthday, dearies.
21. We celebrate our own Woody and Buzz Light-year as they start a new chapter of their lives. Happy birthday, babies!
22. Twin boys came out of my small womb, it's a miracle. I'm happy you're mine. Happy Birthday, my two special gifts.
23. I wanted a girl, I got two. Now we are three against your dad, we can have whatever we want. Lots of fun await. Lots of love.
24. Twins are simply two people that cry over everything and want to be treated better than every other person. May they have lots of joy growing up together. Happy birthday.
25. Happy Birthday to the two people known as one, having you around has been nothing but fun. May you enjoy the best part of your years every day. Enjoy your special day and have fun.
26. May God through his guidance take care of these little angels, May all the provision needed to be made available for them. Happy Birthday beautiful twins. You deserve the best of everything you'll get.
27. Twins are wonderful and delightful creatures, they never cease to amaze you every time, they can love hard and hate hard. Happy Birthday, twins. May God bless and grant you both long life.
28. Have an awesome day my favorite twins. May God continue to bless and illuminate your lives. Happy birthday, dearies.
29. My awesome twins. Today, I wish you much peace, good health, love, and blessings. Have a beautiful day!
30. Have a day full of joy and unforgettable cheer my dear twins. It's your birthday, make the most of it. Have a great day lovelies.
Birthdays are special occasions that call for a celebration and are all more special to parents. Your babies may not remember the celebrations, but they can surely read all the wishes you have written for them after they grow up. So, shower as many birthdays wishes as you can on the little one.
Send them a little birthday message that will remind them of the love you have for them and the unspoken unbreakable bond they have among themselves.
Read more