From a House Maid to a Graduate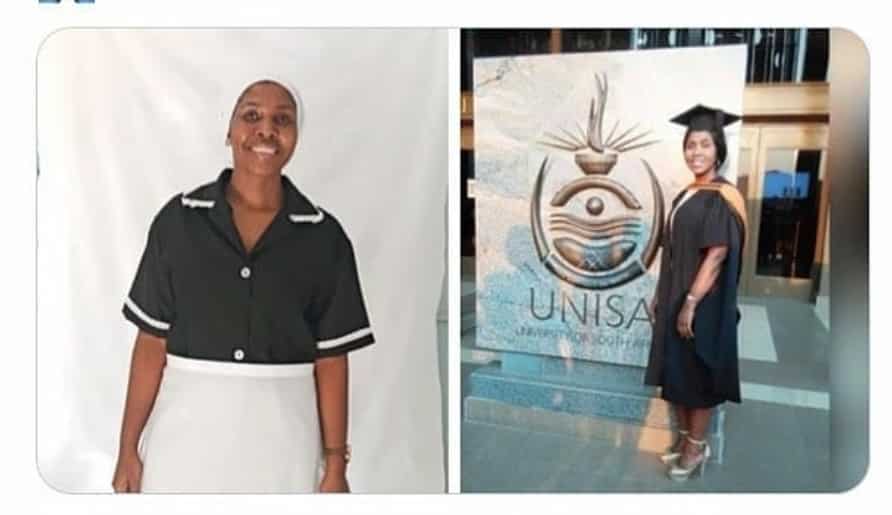 Women breaking boundaries. From a housemaid to a graduate. Ntombizodwa Merriam knew what she wanted and went for it. This is a motivation for anyone out there struggling or feeling left out. I want you to know that you can achieve absolutely anything you put your mind to.
Ntombizodwa Merriam Mahlangu, made headlines after obtaining her BA degree, following years of working as a domestic worker. She also has written and published her first book 'Brightness of Diamonds Through Soil'
In an interview with The Phoenix Tabloid, Mahlangu said, "It is a biography about my life's journey from being a domestic worker to a graduate and now author. I grew up on a farm, and also attended school on a farm. "Many of my classmates gave up on education and never pursued their dreams due to challenges we faced during that time, such as the language barrier, poor educational system, no electricity etc. There are still learners from farm schools that lack confidence and end up in construction, domestic work and other odd jobs," said Mahlangu. Mahlangu said it took her almost two years to put the book together due to other employment opportunities while working on the book. "The book aims to benefit every child from a disadvantaged background and also the youth who have lost hope on their dreams.\"
Her message to other women who are experiencing uncertainty is: "Giving up is not an option! Sitting in the corner and crying about your situation will not make it better. Pray to God and give your burdens to the Almighty. Work hard and believe that he will provide whatever he has promised," said Mahlangu.