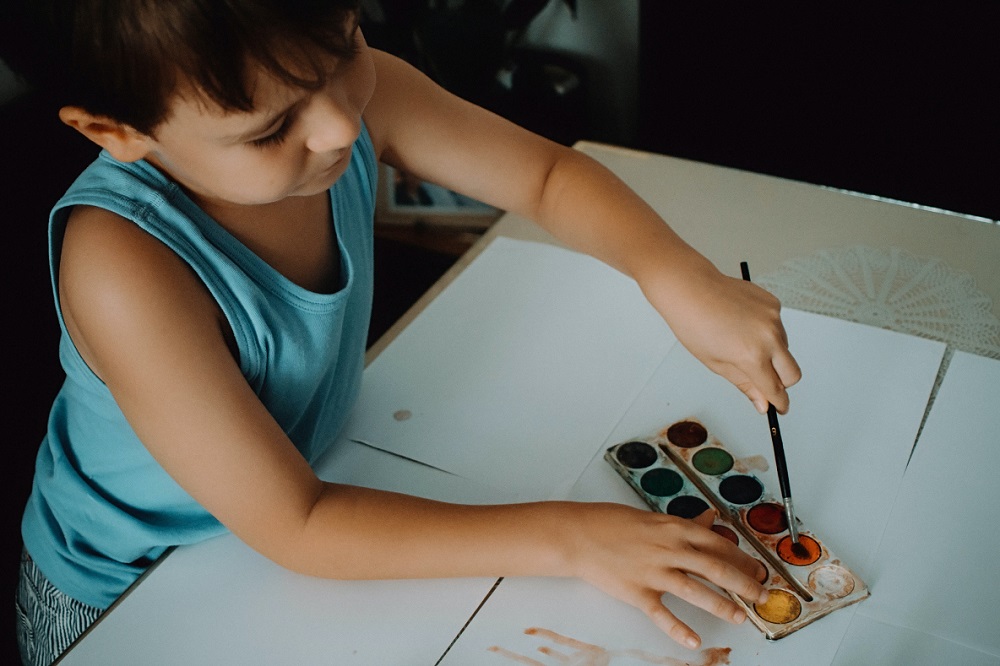 You have figured out that your child has an interest in art, and you are ready to fan the flame and encourage your child\'s gift. Whether they\'re toddlers or teens, boys or girls, everyone loves to engage in activities with suitable arts and crafts kits, drawing materials to improve their creativity and thinking.
What do your kids do with their free/playtime, except watching their favorite cartoons and children\'s channels? Do you know that you can introduce fun and learn with some creative kids painting sets to acquire hand-eye coordination, stimulate their senses, and experience the beauty of art?
Here is a list of art materials and painting sets for kids;
US Art Supply Painting & Drawing Set
This art supply comes highly recommended. With so many art supplies to assist your child to do what she or he loves. What is contained in the package?
Deluxe drawing set kit for beginners
A solid Solana Adjustable wood desktop table which comes with a drawer
A 15-piece brush set, color mixing wheel, and a plastic palette
A field sketch pad, drawing sketch pad and watercolour pad
A beautiful wood box drawing set which contains 24 color pencils, 24 oil pastels, 24 watercolor cakes, eraser, sanding block, 2 paintbrushes, 60 wax crayons, 2 drawing pencils, 3 mixing trays, and a sharpener
This product has all you need from sketching, drawing and painting in one purchase and all neatly and safely packaged.
---
ColorCrayz Paint Set For Kids
This washable paint set is a bundle that will help bring out the painter in your child. Its content includes:
12 vibrant washable non-toxic paint colors
A mixing tray palette
Pre-drawn 8 by 10 100% cotton art canvass with tabletop wooden easel
5 Paintbrushes and waterproof smock
All the paint supplies are packed in portable storage bad with a zipper for safekeeping and easy carrying.
---
Kid Made Modern Studio Painting Kit
This is another sketching, coloring and painting art tool to help unlock your child's creativity. Here are its high-quality supplies
Watercolor pad
Mixed paper pad
12 Watercolor paints and 10 acrylic paints
16 colored pencils and 3 drawing pencils
10 washable markers
3 crayon disc
1 wooden sharpener and 1 eraser
5 paints brushes
4 canvass boards
All these items are neatly contained in a carrying or storage case.
---
LUCKY CROWN Drawing & Painting Set for Kids
This 143 pieces of Delux art set is good for children, teens, and adults. This art supply comes with a beautiful wooden case. Below is its content
24 watercolor cakes
1 sandpaper block
2 drawing pencils
3 8-well palettes
24 color pencils
24 nontoxic oil pastels
60 nontoxic crayon
1 eraser
1 sharpener
2 brushes
It is safe for kids and it is environment-friendly.
---
Mont Marte Art Paint Brushes Set Kids
Looking to buy a set of paintbrushes that will make painting fun and fine, you should get these sets of 15 different sizes, brushes for watercolor and acrylic oil for kids and adults.
Ranges from size 3/0 to 12 C
Of professional quality
Suitable for various kinds of painting. Acrylics, watercolor, gouaches, oil painting.
Comes with a beautiful holder with zipper
It is not easily destroyed and bristles can easily be maintained
---
Darice Acrylic Painting Set for Kids
Darice Studio 71 is a 27 piece acrylic painting set excellent for children. Below are its contents
16 12mL tubes of acrylic paint
2 40mL tubes of acrylic paint
1 palette
1 palette knife and 1 palette cup
3 brushes
1 painting medium
1 sketch pencil
All these are contained in a portable wooden case ensuring it is organized, neatly packed for safekeeping and carriage.
---
Professional Drawing Pad and Drawing Set for Kids
If you are looking for art materials for a beginner and also a professional, then this Deluxe Art with 85 pieces will be the right call. It contains
12 sketching pencils
12 watercolors cakes
8 acrylic paints
28 watercolor pencils
10 artist brushes
8 oil pastels
1 plastic palette, 1 erase
1 wooden sharpener
They are all non-toxic and a neatly organized in a wooden case for ease for carriage and prevention of loss.
Read more