Is It Safe To Clean Your Newborn\'s Ears With Cotton Swabs?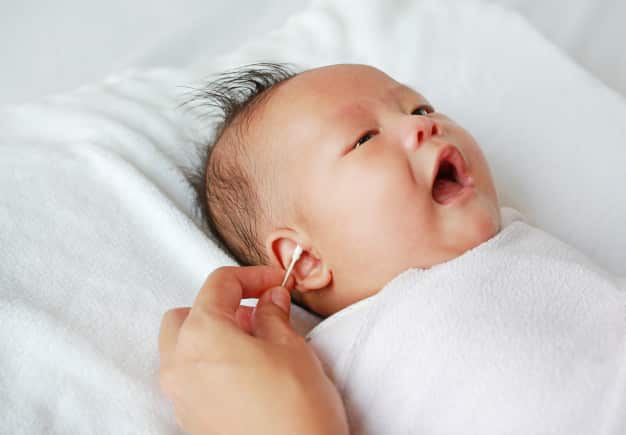 When it comes to our Newborns, whatever purpose we have for something drops to a different level since these tenders beings are in total surrender to our care and love. Generally, cotton swabs used in the cleaning of ears to remove earwax have been viewed negatively, and several warnings are given in its usage. It is dangerous to use cotton swabs or to stick anything inside your baby\'s ear. Cleaning of ears with cotton swabs has sent many kids to the ER (Emergency Room), as these objects perforate the developing ear membrane.
Cotton Swab Dangers in Newborns Ear;
A] Ruptured eardrums; Due to their bodies\' sensitivity and development, cotton swabs are dangerous and too toxic to the baby\'s eardrums. It could lead to ruptured eardrums and severe bleeding.
B] Ear damage; when the eardrums are ruptured, cases like permanent damage can occur to the ears of your baby, leading to loss of sound.
C] Excessive build of earwax: Instead of cleaning the earwax from the babies ears, cotton swab pushes them back, preventing them from falling off. It can lead to blockage of the eardrums, creating discomfort for the babies like itching, discharge from the ear, etc.
d]Portions of cotton swabs in the ears; in many cases, using the cotton swabs leaves some cotton particles in the baby\'s ears. At first, this may be harmless but can cause unrepaired damage to the child\'s eardrums in the future. It is completely unhealthy for particles to be left in the eardrums.
Alternative methods of Cleaning Babies Ears:
A] Use eardrops; use medically approved eardrops prescribed by a pediatrician to prevent excessive earwax.
B] Use warm facial towels; this is usually done after bathing the baby. Use the warm towel to gently and mildly clean around the ears.
C] Use ointments or baby oil; few drops of baby healthy oil and ointments into the baby\'s ear soften the ear wax and clean them out. However, this should be done with medical directives and knowledge.
First instinct as parents when we see earwax in our baby\'s ear is to use THE COTTON SWAB, but these do more damage than good to the ears of our newborns. They cause severe damage to the infants and rupture the developing eardrums, which could lead to loss of sound. Alternative mild home remedies should be used instead of cotton swabs. Please consult a pediatrician if your baby is experiencing any ear problem to avoid any further complications.