ezSTOW Canopy Organizer for your Outdoors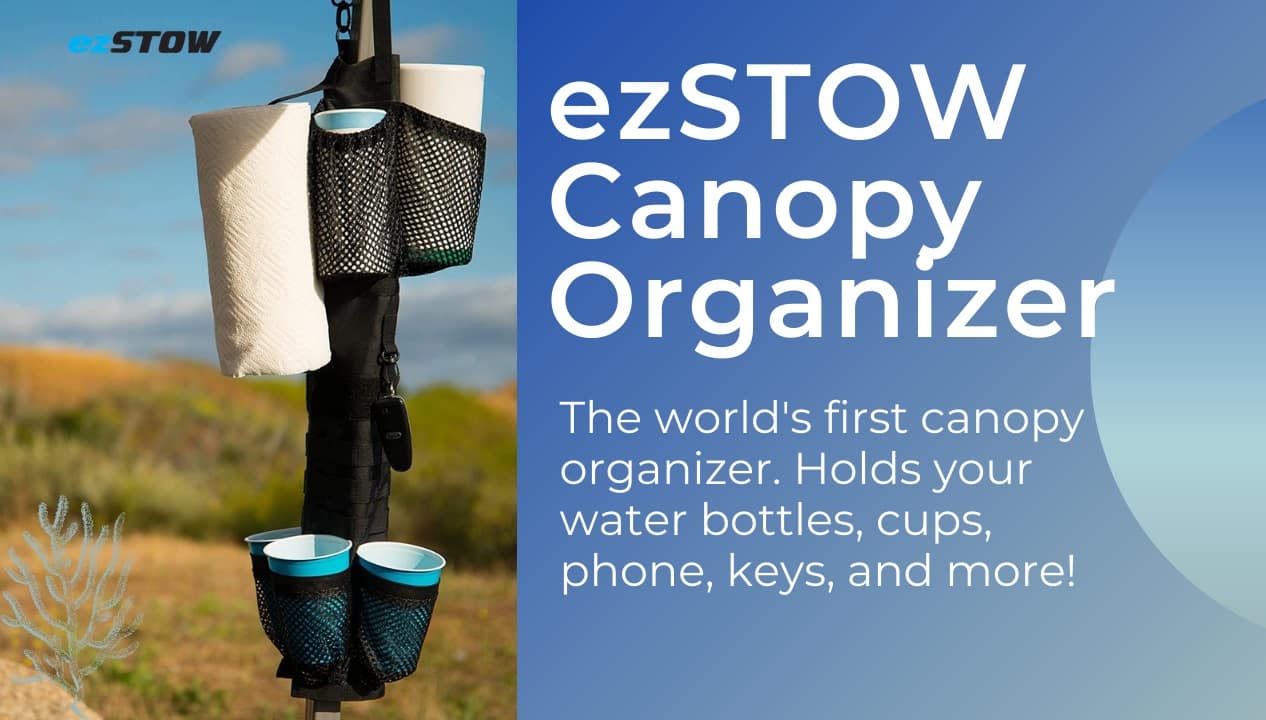 Whether you are setting up a canopy or camping or just sitting under a canopy shade with your friends and finding a suitable space to hold all your belongings is a problem. Ezstow canopy organizer is the answer and the first one of its kind. Even if you are decorating that big, beautiful event venue, the more reason you need the ezSTOW Awning Organizer.
What is ezSTOW Organizer?
EzSTOW is the world's first canopy organizer. It is designed to hold water bottles, cups, keys, fliers, paper towels, writing materials, and more while being strapped to the pole. This world-class organizing solution fits snugly on the bars of a canopy, canopy tent, or a large umbrella. Get it here at www.shopezstow.com.
What are the features of ezSTOW Canopy Organizer?
1. An easy and beautiful way to organize your awning or tent.
2. There is enough space for everything
Six large pockets great for holding bottles
Four pockets for holding cup and phone
Clips and loops
Paper towel holder
Plastic sleeve
3. Because it is built for outdoors,
It is water-resistant
It is fitted with rugged 600D Nylon
Comes with quality full Zip YKK Zipper
Suited to hold your belongings without giving way
Suitable for the field, beach, or camp
4. Easy to install
5. Simple to pack and unpack
6. Ease of cleaning
Product Category
The ezSTOW Canopy Organizer comes in two categories: the ezSTOW and the miniSTOW. The world's first awning organizer comes with other attachments 1. ezSTOW, which comes with 6 large pockets and 4 cups and phone pockets, has a dimension of 60 inches high and 12 inches wide (+/-4 inches dia). The ezSTOW comes in seven colors
ezSTOW black
ezSTOW Red
ezSTOW Blue
ezSTOW Yellow
ezSTOW Orange
ezSTOW Grey
ezSTOW Olive
1. miniSTOW is the smaller version of the ezSTOW with a 30 inches high dimension by 12 inches wide (+/- 4 inches).
This model comes with 3 large pockets, four phone or cup pockets, and every other feature on ezSTOW. miniSTOW also comes in seven colors
miniSTOW Black
miniSTOW Red
miniSTOW Blue
miniSTOW Yellow
miniSTOW Orange
miniSTOW Grey
miniSTOW Olive
2. clips: a set of three
3. Plastic Sleeve
4. Pop up container
5. Carabiner
Who needs this awning Organizer?
You need this if you are an event planner.
Those into rentals and setting up of canopies for an event.
Every scout leader who believes camping should be fun and all items should be safe.
Every home that spends time outdoors and set up a tent or shade for their picnic.
If spending time on the beach or by the pool is your way to relax, you need it.
If you fall in any of these categories, shop one for yourself from www.shopezstow.com and enjoy all the great benefits.
Benefits of owning an ezSTOW
You avoid losing your keys
Very low risk of a phone broken screen from fall or accident.
You don't have to worry about spilling your drink or water.
Paper towels are positioned for easy reach.
The paper sleeve can hold the pamphlets for all the scout members or events.
Everyone's belongings are in a safe, secure place.
Gives your workspace an organized and professional outlook.
Gift a loved one this ezSTOW from www.shopezstow.com today.
Here are a few of our staff favorites:
The Great (Organized) Outdoors ~ Doug
Camping, hiking, geocaching, or simply a day to get away from it all, being outdoors and in nature is a perfect place to set-up your shade canopy. Then simply add you ezSTOW for added convenience. It will serve as a great organizer for your sunscreen, bug spray, water bottle, sunglasses… everything you need to enjoy being outside. When mealtime comes, forks, knives, cups, and even a roll of paper towels are handy to have in the ezSTOW and not on the ground getting dirty or attracting bugs.
The Sports Mom's Best Friend ~ Carie
It's tournament time. Five games in two days. Time to set up HQ and start on the strategy. For those long, hot days in the field (or the diamond, or the court, or the pool deck), having a shade canopy for the team is essential; and, so is your ezSTOW. Parents and players alike can store their water, sports drinks, or coffee. Attach the plastic sleeve to hold that day's line-up and game times. Attach equipment and uniforms to the various straps and clips. However, you use it, keep the whole team organized and all the gear off the ground.
Business is Booming ~ Joe C.
These days more and more people want to shop local. So setting up the shade canopy as a storefront is perfect for farmer's markets or street fairs. With the ezSTOW attached to your canopy, you can have everything you need at hand without getting in the way of your merchandise. In addition, the ezSTOW can hold things your customers need like plastic bags or even product samples.
Organize the Troop, Scout's Honor ~ Carolyn
Few activities are better for young people than the fun, hands-on learning and achievement of scouting. While the scouts are earning badges or practicing survival skills, the shade canopy is always a great meeting place for the whole troop. With the ezSTOW Organizer attached, all the supplies and tools needed for the adventure at hand are easily stored and kept handy. Working on a painting badge? Place your paints, brushes, and other materials in your ezSTOW. Preparing your super-fast pinewood racer? ezSTOW can hold your tools, sandpaper, and parts. Even if it is time for cookie sales, set up the canopy, and the ezSTOW can hold change, receipts, or sample cups.